In response to national and statewide efforts to contain the spread of Coronavirus (COVID-19)
Effective March 18, 2020 All in-person client interactions are suspended until further notice.  All First Time Buyers Workshops will be completed on-line and all Counseling Sessions will be done over the phone. Diversified Housing's Counselors will be working remotely.  Please feel free to email us at info@diversifiedhousing.org.
For more information on the State's Response to COVID-19 please visit https://governor.maryland.gov/coronavirus
For Health information related to COVID-19 please visit https://coronavirus.maryland.gov/
Diversified Housing Development
We are a HUD approved housing agency. First time homebuyers are mandated to attend a (HUD approved) first time buyer workshop, in order to receive federal, state and/or Baltimore County funds. Our Homebuyers Workshops are FREE. You must register in advance by contacting our office. A homebuyer must also have a one-on-one counseling session, to receive a certificate. Both the workshop and one on one are required for any designated funding for first time homebuyers. There are NO exceptions. In our first time homebuyers (pre-purchase) workshops, a potential homebuyer will learn about the down payment and closing cost assistance programs. The homebuyer will also learn the process of purchasing a home, as well as budgeting, savings and credit. Typically, our homebuyers' workshops are held at the local libraries in the NW area of Baltimore County. They are held during the week night from 6pm-9pm. Our one-on-one counseling sessions are during the day, at our office.
If you have any questions, please email us or contact us via phone.
Our Mission
The mission of Diversified Housing Development, Inc. is to promote affordable housing options for low and moderate-income families resulting in economic empowerment and strengthened communities.
Weatherization Program
Weatherization Application
Weatherization Application 2024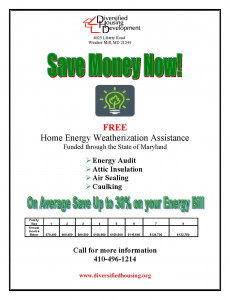 Upcoming Workshops
Understanding Credit and Budget Workshop
Workshop will be held virtually.
CLICK UP COMING WORKSHOP BUTTON BELOW TO REGISTER
---
First-time Homebuyer Workshop Schedule
ATTENTION! ATTENTION!
EFFECTIVE JAN 2022. INDIVIDUALS WILL ONLY RECEIVE ONE FREE FIRST TIME HOMEBUYER WORKSHOP THROUGH DIVERSIFIED HOUSING DEVELOPMENT. IF YOU NEED TO ATTEND ANOTHER HOMEBUYER WORKSHOP THROUGH DHD YOU WILL BE CHARGED A FEE TO ATTEND. IF YOU HAVE ATTENDED A WORKSHOP WITHIN THE LAST YEAR PLEASE DO NOT REGISTER.
*********************************************************************
**********************************************************************
Registration January 12th for January 25th Workshop -CLOSED
Registration February 9th for February 23rd Workshop Closed
Registration March 9th for March 23rd Workshop Closed
Registration April 6th for April 20th Workshop
Registration May 11th for May 25th Workshop
Registration June 8th for June 22nd Workshop 
Registration August 14th for August 31st Workshop
Registration September 11th for September 28th Workshop
Registration October 9th for October 26th Workshop
Registration November 13th for November 30th Workshop
_______________________________________________
* Workshops are all day workshops from 10:00am- 4:00pm
* Workshops are held virtually
* Workshop dates are subject to change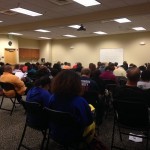 To view and register for one of Diversified Housing Development's upcoming workshops, please click here or follow the link below. If you have any questions please contact us and we will be happy to assist you.
We offer an online homebuying education course. This course allows you to attend at any time you choose and move at your own pace. The course also offers quizzes to ensure that you thoroughly understand the information that is presented.
eHome America is based on the NeighborWorks America Realizing the American Dream curriculum and meets the National Industry Standards for homeowner education.
Click Button
Spotlighting Our Families